Grey, wet weather has had us craving colour so when we saw this on Saturday afternoon:
we were out in the garden with the camera on the lookout for the brightest colours we could find. And we found some pretty bright ones:
and one of my favourite, cheerful little flowers, daisies. Love how they are reaching out and drinking up the sun and casting little shadows on the paving stones.
I have a photographer's assistant these days......well, fellow photographer actually. And we have ALL angles covered!
This Monday we are saying:
Hello to more rain (boo)
Hello to one last day of half term
Hello to getting on top of my admin (you know, maybe...)
Hello to seeing the National Theatre's
Frankenstein
at the cinema - excited to see it as I couldn't get theatre tickets
Hello to more colour seeking
Hello to playing with two new (to me!) iphone apps - marblecam and magic hour
and finally
Hello to being brave and putting some of my art out there - have you see this over at
Kat Eye Studio
? I'm all signed up, come and join us, share your art and get some happy mail this summer. Click on the link for the details.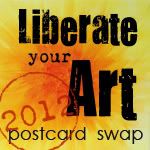 Have a great Monday. :)
Linking up with
Lisa Leonard
.