Hello Monday....and hello colour!
I'm participating in the Summer of Colour over at
Twinkle Twinkle
(found via
Sarah
- thanks Sarah!).
We currently have 2 main colours going on over here....grey (sky) and green (everything else). I won't complain about the green, but the grey's a different story! So, the perfect antidote. Playing around with colour combinations.
I'm late to the party so here are my entries for weeks 1 (above - citron green and turquoise) and 2 (below - orange and hot pink).
Why don't you come and play too? Who doesn't love a bit of colour?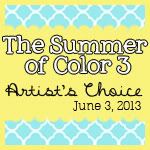 Happy Monday!
Images processed
Kim Klassen
textures. Image 1:
cherish
and
providence
. Image 2:
sybil.